Pleasurable: Eating and drinking at Hotel Gut Brandlhof
Gourmet food and fine wines for hotel, business and daily guests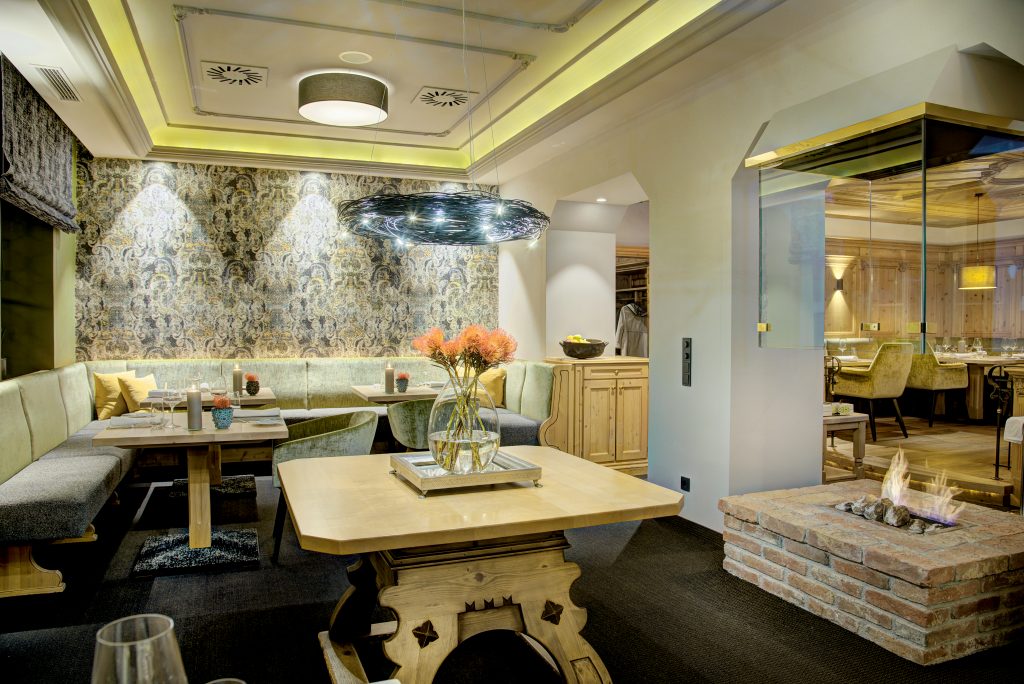 Alpine traditional cuisine with a modern touch: Our kitchen team indulges you in our restaurant and at your events with traditional Salzburg treats and international delicacies.
Enjoy the atmosphere of our cosy parlours, make a stop at our golf restaurant einkehr after golfing, hiking or biking or grab a bite (or a cocktail) at our hotel bar. Our sommelier will find a perfect company.
Regional, seasonal, phenomenal
Our kitchen team are culinary virtuosos and will serve you modernly interpreted traditional dishes and international delicacies. Our chef sets great value upon regional and seasonal ingredients as well as an outstanding quality. Because exquisite cuisine calls for exquisite ingredients – by collaborating with local suppliers, we can guarantee the high quality consistently.
Half board for hotel guests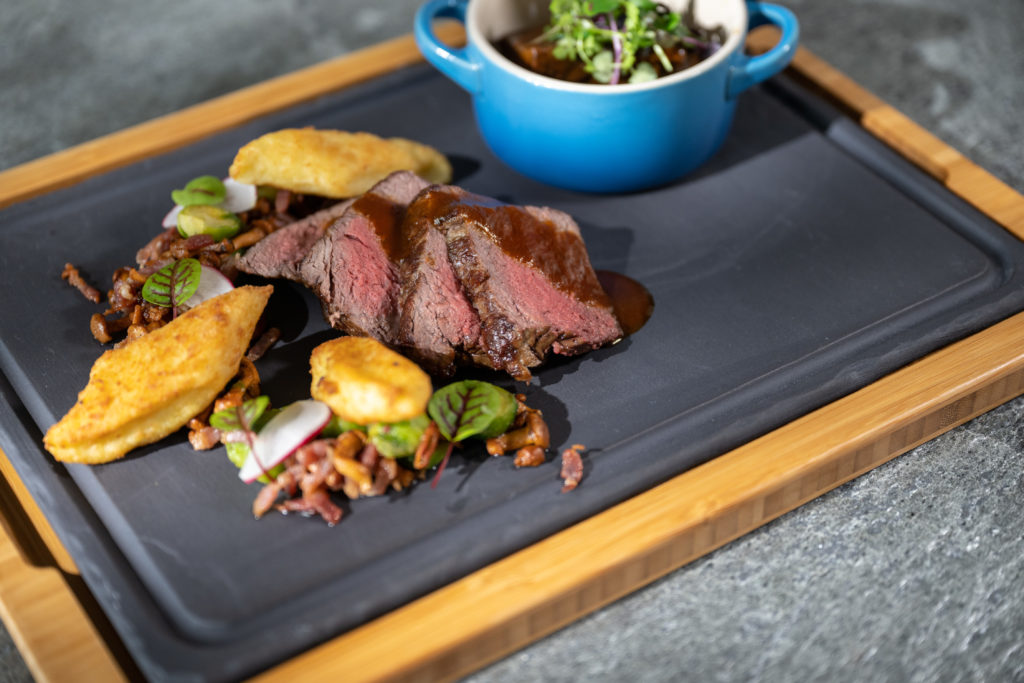 Hotel guests with half board will start their days at our extensive breakfast buffet with savoury and sweet treats, freshly squeezed juice and hot coffee and tee variations. At night, our kitchen team prepares a 4-course gourmet dinner. You can choose between different main courses.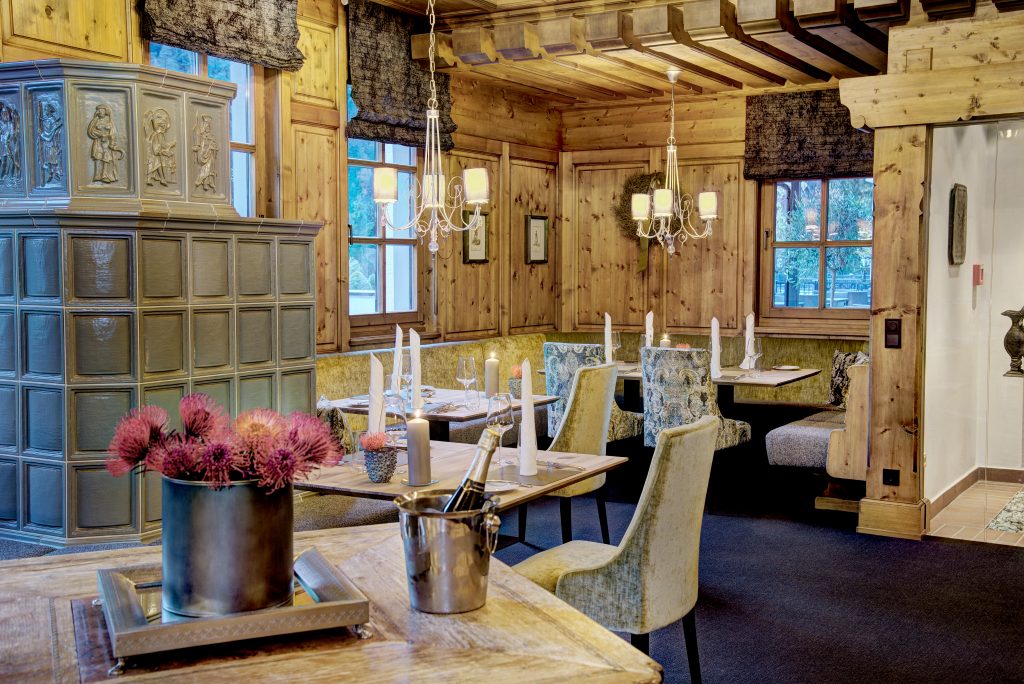 Variously versatile: Our parlours
The restaurant of the Hotel Gut Brandlhof offers around 350 seats – separated in cosy parlours we can guarantee privacy and comfort. We offer the right location for every group and every occasion.
Herrenhaus (Manor House): The classic for families on holiday or discrete business meetings (with reservation only).
Salzburger Stube (Salzburg Parlour): Alpine chic with space for 60 guests.
Oberbrandl & Unterbrandl (Upper and Lower Brandl): An homage to the story of the Brandlhof with 20 and 45 seats.
Zinnkrug (Pewter nug): Traditional naturalness with loads of wood for around 50 guests
Gutshof (Grange Parlour): Exciting design and Austrian hospitality with a rustic-style buffet zone. Up to 100 guests will be comfortable here.
Jägerstube (Hunters' Parlour): Cosy comfort for small groups up to 18 people.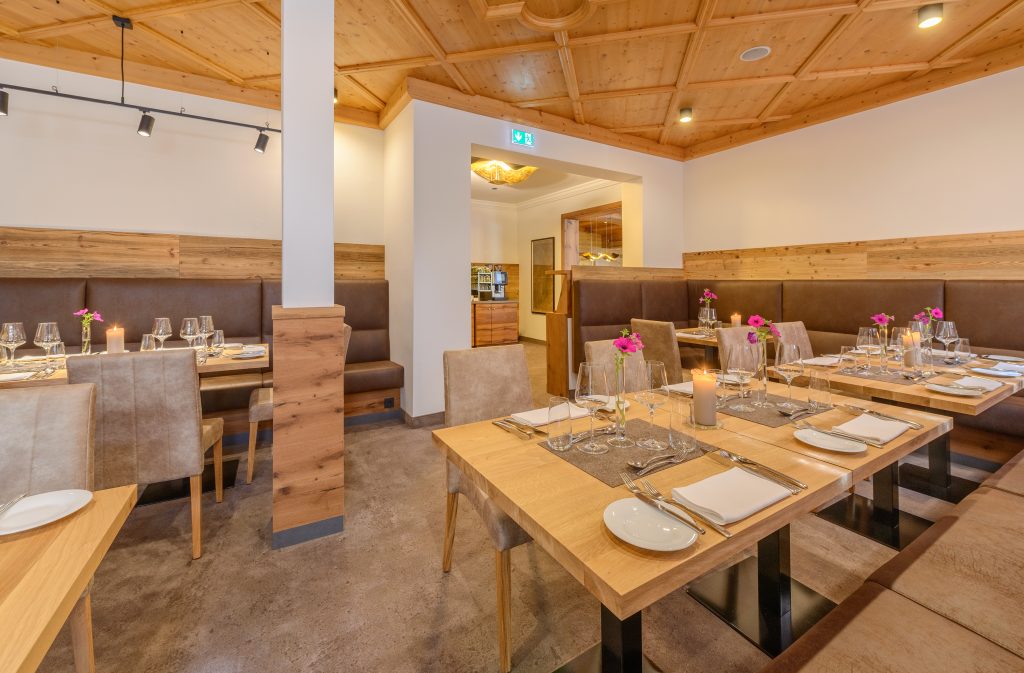 Opening hours of the Hotel Gut Brandlhof Restaurant
Breakfast 07.00 a.m. – 10.30 a.m.
Lunch 12.00 p.m. – 2.00 p.m.
Dinner 07.00 p.m. – 9.00 p.m.
Exquisite wines and fresh mountain spring water
Once you have settled for a dish or menu, our certified sommelier Johann will be happy to assist you with the best choice of wine. The water from our own mountain springs will refresh you. After dinner, we invite you to enjoy a cocktail at our hotel bar.
A local special: Hutessen
A local speciality and a culinary highlight is the convivial Hutessen (literally "hat eating"): At this cross-over of fondue and raclette, you can grill and cook meat and vegetables on a hat-shaped table grill with broth in the "brim". Only the ones who do not know it yet are not excited about it. Hutessen is the perfect round-off for groups after golf rounds or company outings.
Available for groups of 40 to 80 guests. For smaller groups and familys only available with early request in advance.
Snacks & Cocktails: The hotel bar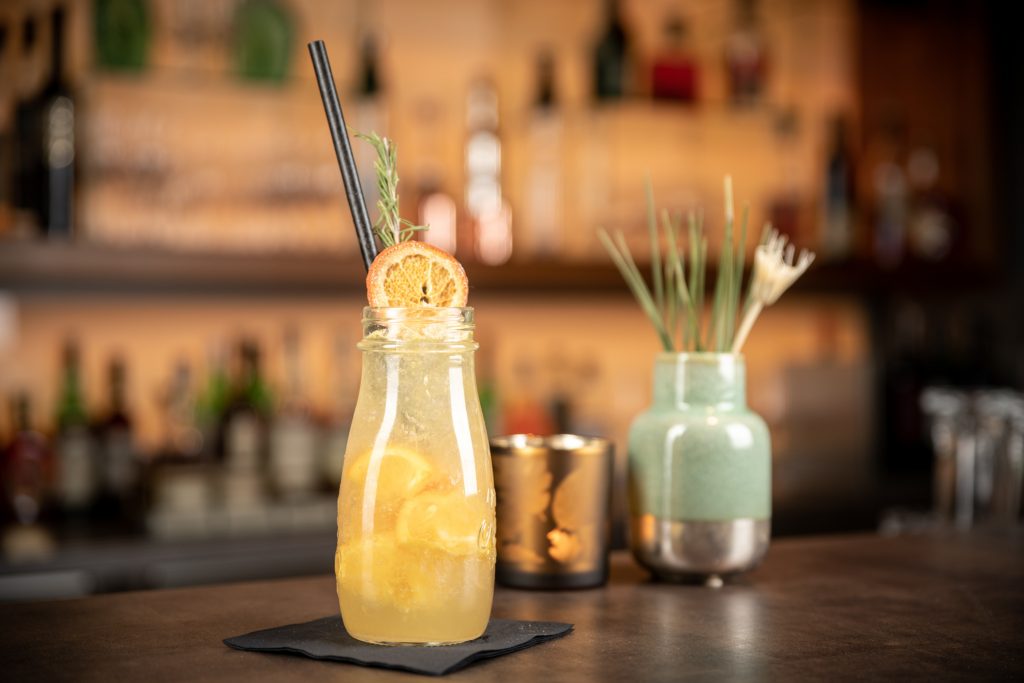 At the hotel bar, we offer delicate dishes and in-between-snacks during the whole day. Of course, this is also the place to enjoy delicious cocktails and drinks – may it be an aperitif before dinner, a nightcap before bed or a comfy drink in between. Out hotel bar offer a large variety of alcoholic and non-alcoholic beverages.
Regelular opening hours of the Hotel Gut Brandlhof Hotelbar
Summer: 17:00 – 24:00
Winter: 10:00 – 24:00
More than golf: einkehr | restaurant & lounge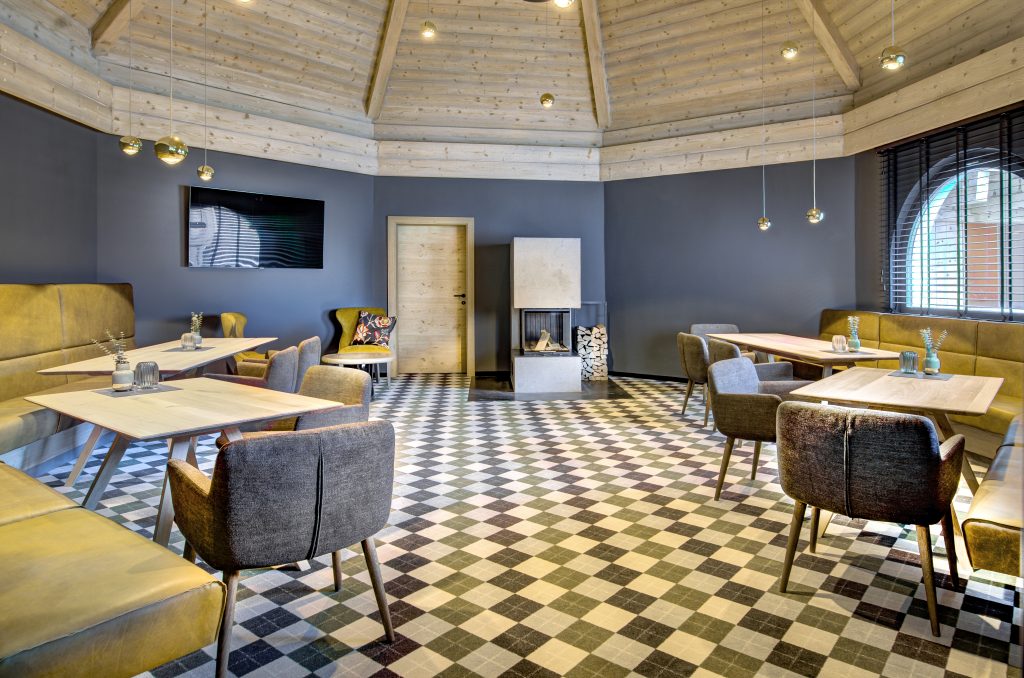 During the golf season from May until October, our golf restaurant einkehr awaits you Tuesday to Sunday from 10.00 a.m. until 7 p.m. (Mondays are rest days from September) with 80 seats inside and 100 seats outside on the sunny terrace. Also, you can reserve the einkehr for private circles.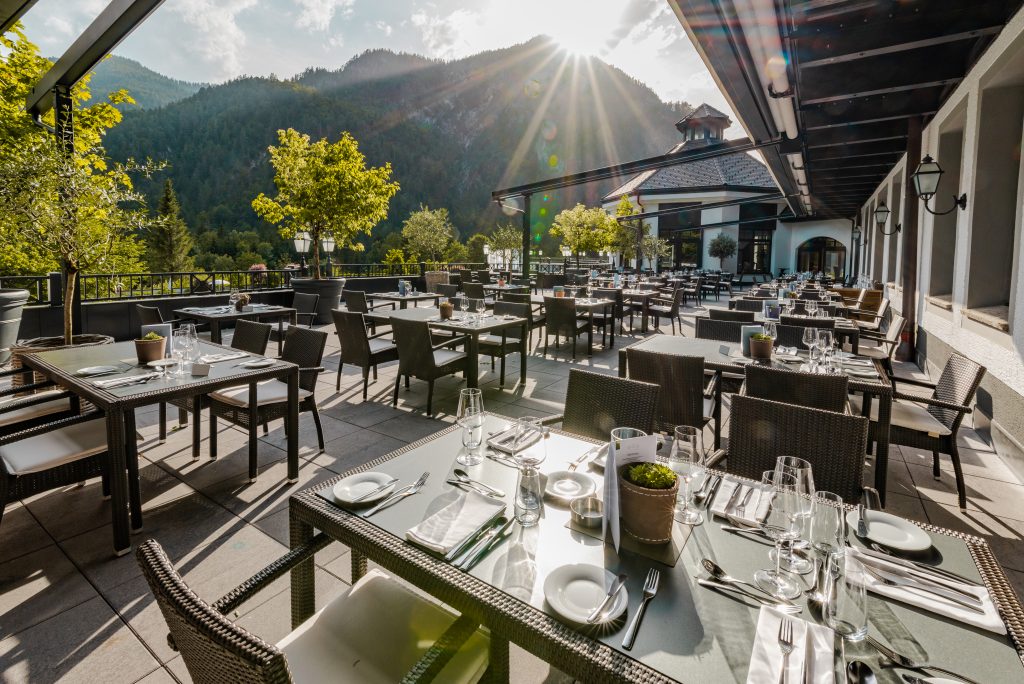 Sun terrace with a breathtaking view
During the war season, we offer you the dreamlike panorama of the Salzburg Alps at breakfast, lunch and dinner. Indulge yourself with delicious food and cold drinks in on our sun terrace. After a hot summer's day, you can enjoy the mild night temperatures with a digestif. If you are hosting an event, the terrace is the perfect place for a casual and relaxed gettogether.
The terrace in winter
Christmas is calling: With the scent of roasted sweet chestnuts and mulled wine on the winter terrace. We offer this winter magic for groups from 40 people upwards, for instance, after seminars.
Our culinary offer for daily guests
Our restaurant is not limited to our hotel guests, we cordially invite daily guests as well. Combine our vast breakfast or our exquisite 4-course dinner with a day's vacation at the Hotel Gut Brandlhof. Our day's vacation offers are also the perfect gift for family or friends, for instance for mother's day, anniversaries or birthdays.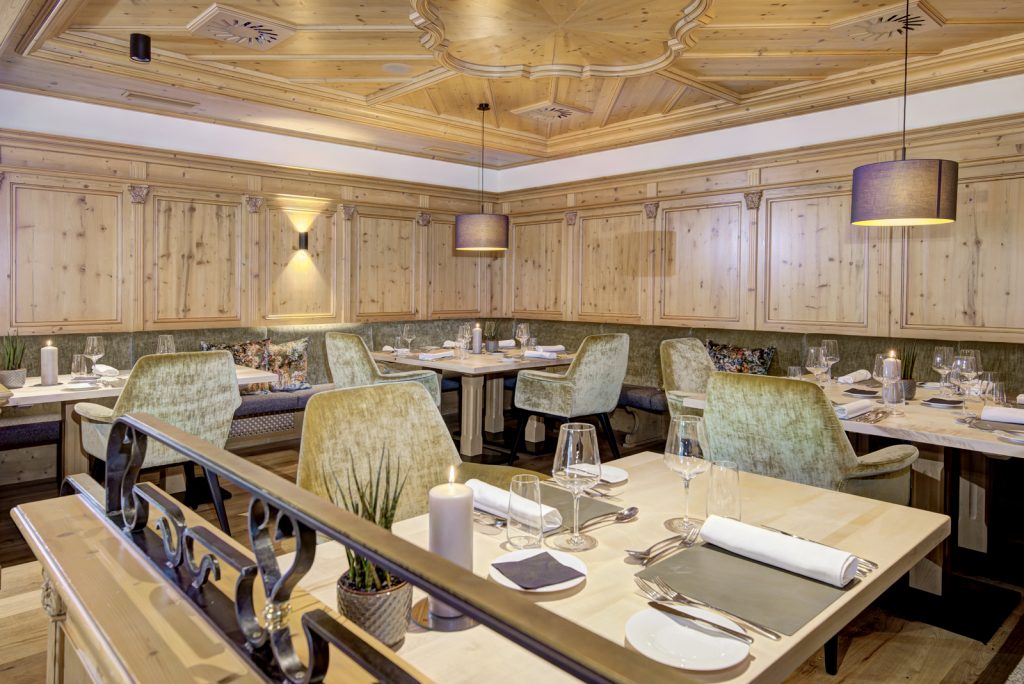 Your celebration at Hotel Gut Brandlhof
A day's vacation at Hotel Gut Brandlhof is not only a great gift for special occasions, our parlours are also the perfect location for company or family celebrations of all kinds. Enjoy the most special moments of life, from the christening feast over birthdays to wedding days and anniversaries. Companies like to celebrate special moments of their history with their teams, pampered by our kitchen and service teams.
Even more possibilities at Brandlhof
May it be a company or a family celebration: In the unique atmosphere of our Wilderer Alm cabin, you can experience authentic traditional hut feeling with Salzburg specialities such as Kaspressknödel (cheese dumplings) and Kaiserschmarrn (sugared pancake pieces). In our Brandlalm indoor cabin, you can experience this feeling in the middle of the hotel. For extra large celebrations, we recommend our ballroom B'350 – of course with catering from our hotel kitchen.