Educational: Our golf school
Golf Academy and Golf Performance Center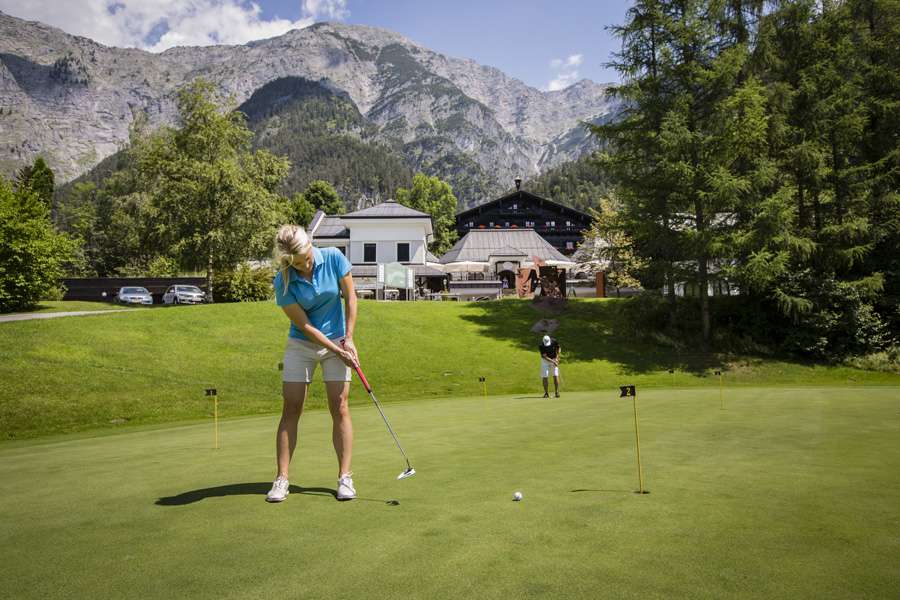 Thanks to our indoor golf simulator, you can practice and train at the Golfclub Gut Brandlhof in Salzburg, Austria even off-season, when our 18-hole golf course is closed. Our professional golf coaches, Head Pro John Seymour and Pro Markus von Knoerzer, use the most modern techniques and technology for successful golf training.
Golf Training
The first step of the training is a thorough analysis of your play: which factors make your play successful – and which do not? After the diagnosis, you will receive a detailed training plan, and you will thoroughly practice your swing and putting movements. We aim to increase your performance, long term and permanent. Our holistic training approach also includes the usage of technological devices to improve your golf skills – no matter what level of skills you are.

That is golf training on tour level. Book your golf vacation including golf lessons now and improve your skills by learning from a head pro!
18-hole Championship Course
Our 18-hole championship golf course, located evenly between the glittering Saalach River and the Salzburg Alps mountain ranges, will make your heart beat faster. Improve your skills while enjoying the breath-taking view. On the virtual tour of the course and with our webcam you can get an excellent first impression and see the current conditions on the driving range.
John Seymour Golf Academy
PGA Advanced Fellow Professional John Seymour has more than 30 years of professional golf experience and is one of the 50 best golf professionals in Europe. In Golfclub Gut Brandlhof in Salzburg he will show you how to improve your skills.
In a short time and in comprehensive steps, the golf professional will help you to learn this fascinating sport – or, if you already are an experienced golfer, how to bring your play to perfection.
Get an overview of the golf training packages at the John Seymour Golf Academy.
Golf Packages
Whether you want to learn golf or to improve your handicap: We have the matching Golf Special for you. Create your individual service and room package during your booking. The packages include your stay at the Hotel Gut Brandlhof and all training units with Head Pro John Seymour and his team. Look forward to athletic holidays at the Golfclub and Hotel Gut Brandlhof near Salzburg, Austria.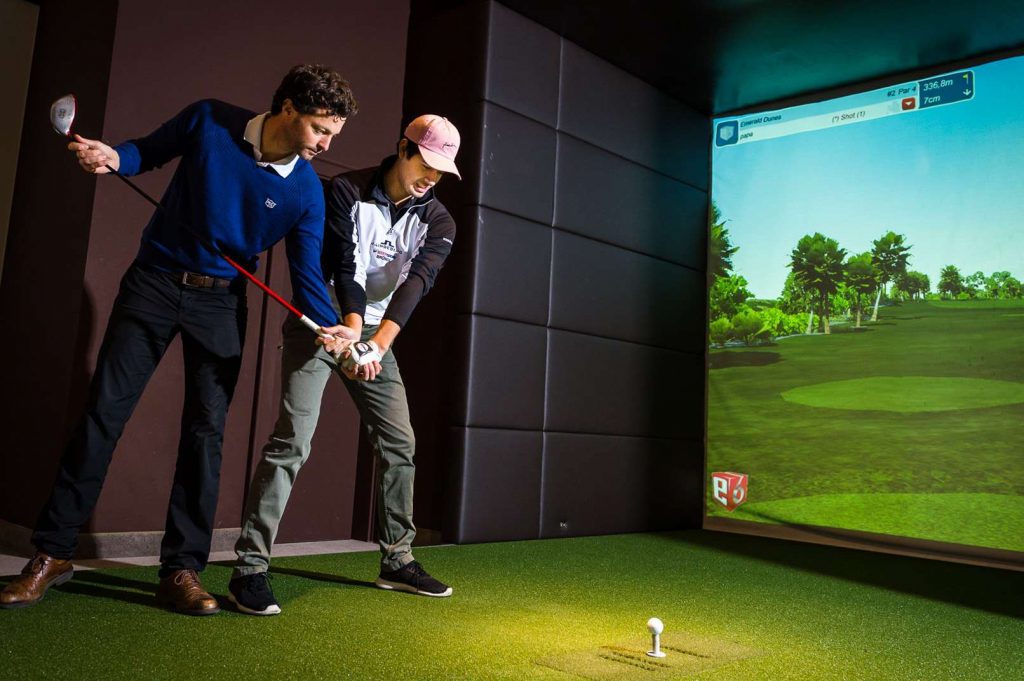 Golf Performance Center
Golf lessons with professionals
For golfers on every level: modern technology and elaborate training areas leave no wishes unfulfilled. We offer golf training on a professional level throughout the whole year. Improve your technique and your physical fitness.
In summer, you have endless possibilities to practice your golf play. At the Golfclub Gut Brandlhof, we offer an 18-hole championship golf course, including a driving range and putting area. However, our offer to practice golf also during winter is what makes us unique: The Golf Performance Center, lead by Pro Markus von Knoerzer, enables you to train and practice golf even in the cold season.
Markus is a dedicated golf instructor for almost 20 years. Ever since he started working as a coach in 2000, he has trained with various top teams and players. His focus lies on a holistic training approach. Apart from amateurs, he also coaches young talents and professional players. He is supported by a team consisting of
Condition coach Ricco Gross – multiple Olympia and world champion
Sports scientist Franziska Beil from the therapy and training centre Aktiva Medici in Priem at Chiemsee lake, she is responsible for performance diagnostics and fitness training
Dipl. physiotherapist Silke Blaickner – medical massage therapist
Training areas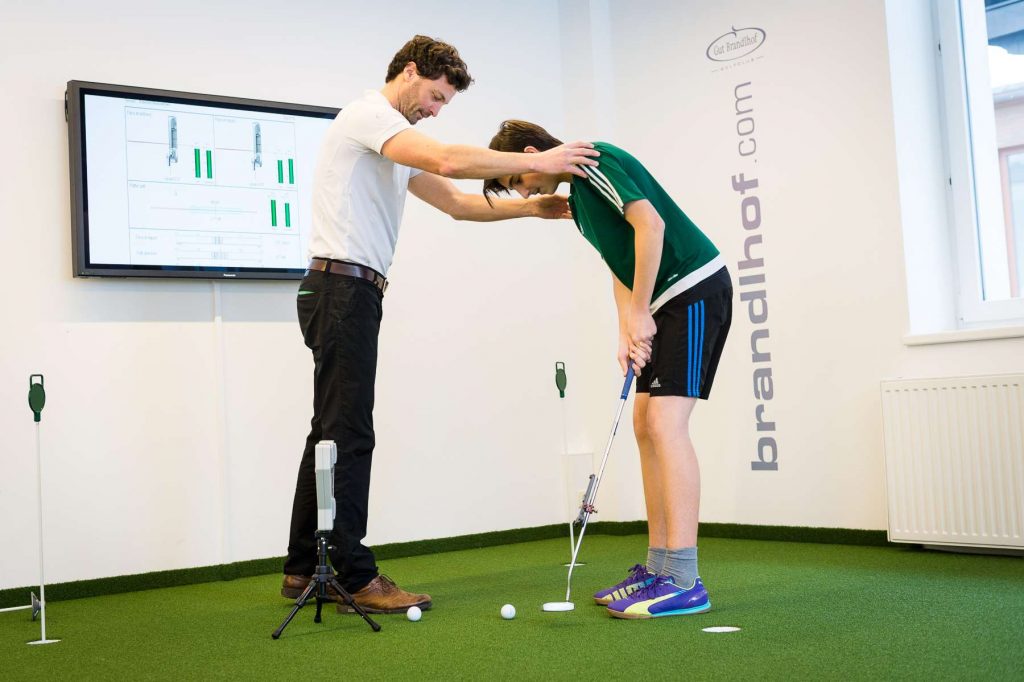 Swing Lab
At the Swing Lab, Pro Markus von Knoerzer supports you in optimising your golf swing. With a scope system and the GC2+HTM the players can train indoors and outdoors under professional conditions. Additionally, a TruGolf golf simulator is used for different training units.
Putt Lab
On our generous indoor putting green (10 stimpmeter) you can train your putt movements throughout the whole year. Train like a professional and use the putt lab programmes to improve your short play.
Golf Young Talents and Performance Centre
At the performance center of the Golfclub Gut Brandlhof, young athletes can train throughout the whole year under the guidance of Markus von Knoerzer and his team: "Especially when working with children and young adults, we realise our responsibility for their mental, social and physical development. We create the training in a way that emphasises the positive aspects of the play and still manages to obtains maximum performance in the professional sport."
Fitness center
Avoid injuries and improve your drive length and precision: At our fitness center we provide specialized torso power training tools.
Year-round golf holidays
Golfing in Saalfelden near Salzburg: At the golf hotel Gut Brandlhof you can practice golf throughout the year: on our 18-hole championship course, in the Golf Academy and the Performance Center.
4-star Superior golf hotel
Our gourmet kitchen creates culinary dreams. In our Vivid Spa & Beauty, you can relax and recreate after your golf sessions. The area around the hotel amidst the Alps offers countless sports and leisure activities. Book your premium golf holiday now at Hotel Gut Brandlhof.