B'350 – The elegant ballroom
Top location für parties and events near Salzburg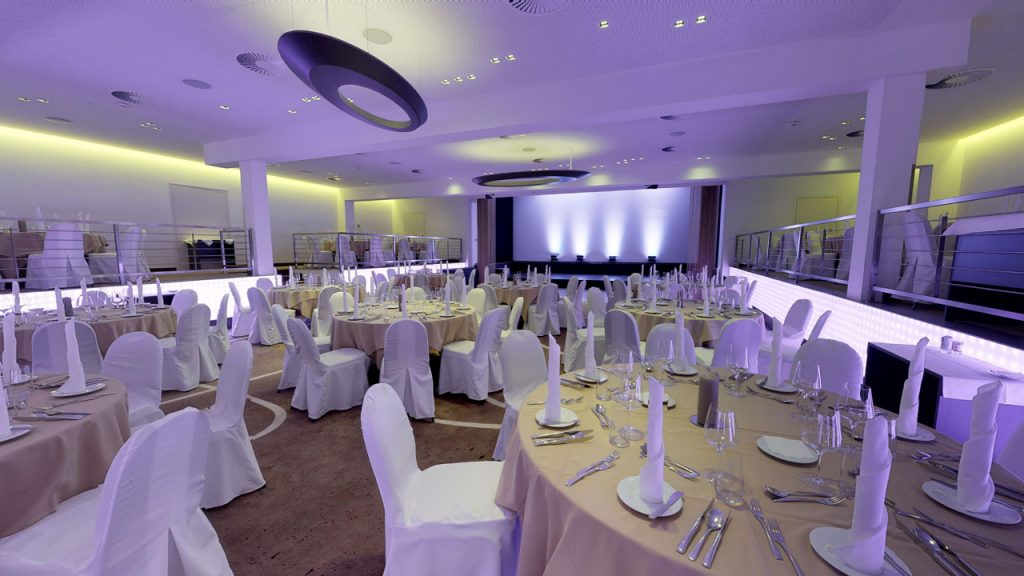 Celebrate with style: Our ballroom B'350 offers 350 m² of space for jamborees, elegant galas, representative honors, spectacular live shows and glamorous balls.
Location for large-scale celebrations
A large stage, modern sound technology for speeches as well as live music and an ample dance floor offer perfect conditions for big-league parties and celebrations. The elaborate illumination technology can be adapted to your company or favourite colours. The B'350 ballroom has two adjoining rooms of 140 m² and 60 m², which can be added to the event space or used as backstage rooms. On up to 550 m² you have enough space for huge celebrations such as galas, shows or even weddings with several hundred guests.
Event location with professional service
If you are looking for a variable location with state of the art technology and the necessary infrastructure for large-scale events such as weddings, balls, product presentations or live music shows, our ballroom B'350 is the perfect place for you. With catering from our hotel kitchen, excellent service and the support of our experienced event team, you will host the most memorable and impressive celebrations. Contact us for your offer and our assistance in planning, organising and executing your event.
Floor Plan