Excitingly relaxing: The Hotel Gut Brandlhof
Enthralling business events, unwinding wellness days, action-packed activity holidays: We offer everything – and more.
Covid19 prevention measures at Brandlhof
Measures according to the Austrian government
– All employees wear a cloth face mask in public areas.
– Guests must wear a cloth face mask in all areas when moving around (indoors).
– We comply with the minimum distance (also in the restaurant and conference center).
– We have increased the cleaning and disinfection intervals with special cleansers in our rooms and public areas.
– Disinfection dispensers are available in the whole hotel.

Voluntary measures of the hotel
– Every week all of our team members attend a Covid19 test.
– You find a plexiglass barrier at the reception and in the golf office.
– At the buffet there are disposable gloves.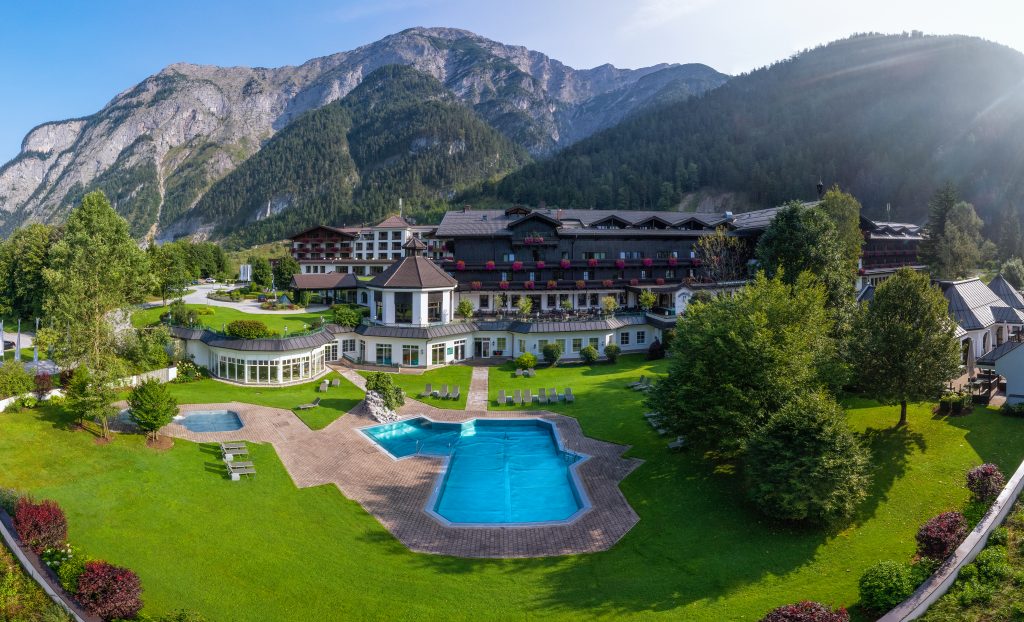 Hotel Gut Brandlhof is a world full of phenomenons: gigantically vast and yet familiarly friendly, all-including and yet individual, professional as well as cordial. We create large events as enthralling as family holidays. We make all of our guests smile.
On our grounds of 450 hectares, the owner family Maier & Strobl created, in more than one generation, a hospitality wonderland for events, leisure and holidays. Thanks to our smart segmentation and our manager Thomas Baliamis and our team's continuous efforts, you can enjoy business meetings and events as well as your holidays undisturbed and in the most beautiful atmosphere.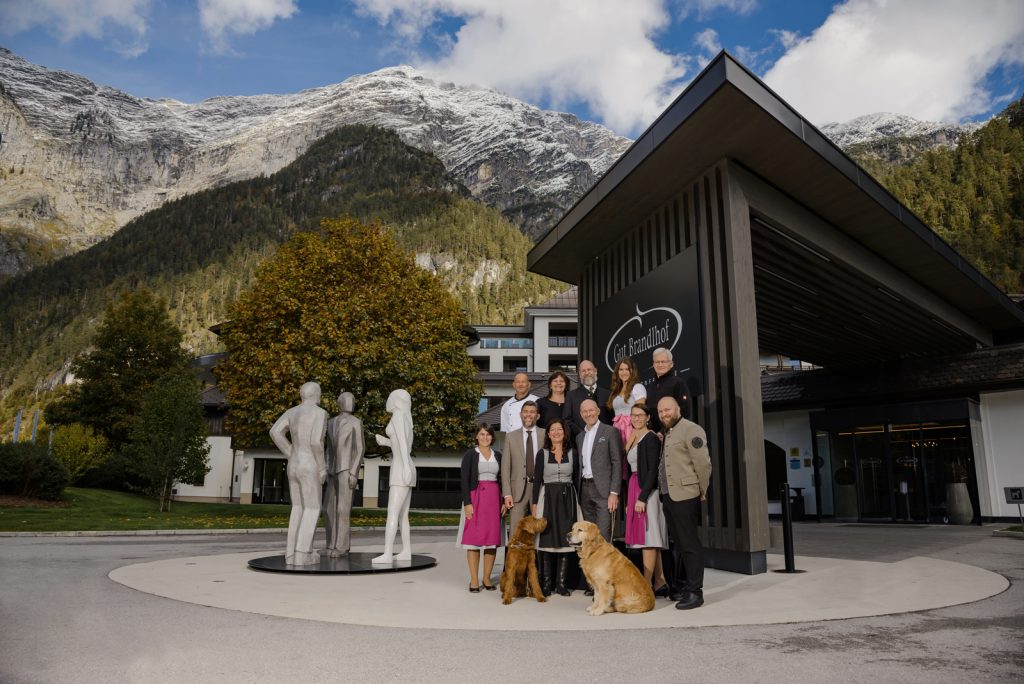 Family-run, cordial, delightful
Alpine hospitality has a long tradition in the Hotel Gut Brandlhof and is our daily business – for your timeout of the daily business. In our restaurant and during your events, our kitchen team will indulge you with the finest culinary treats. Our service team will fulfil all of your wishes. Our housekeeping guarantees comfort and cleanliness in our modern rooms and suites and lodges as well as in the public guest areas from our Vivid Spa to our fitness centre and our comfy lobby.
Our reception is open at all times, and our staff is happy to answer your questions, fulfil your wishes, book your appointments and to disclose personal tips for trips in our breath-taking region. Also behind our scenes, our diligent staff guarantees smooth operations from your booking until your checkout. Our facility team takes care of the building and our grounds for a welcoming appearance. All in all, round 140 employees take care that you feel comfortable at all times.
Amazing alpine atmosphere

Nestled in the rugged rocks of the surrounding mountains called Steinernes Meer (literally "Rocky Sea") and touched by the glittering water of the river Saalach, with a view of the Hohe Tauern mountain range, and only a stone's throw away from Salzburg and Innsbruck, the Hotel Gut Brandlhof is the perfect location for active and lavish holidays. The hotel welcomes you with a modern interpretation of alpine traditions on the highest level, from the food to the room decor.
Thrilling and chilling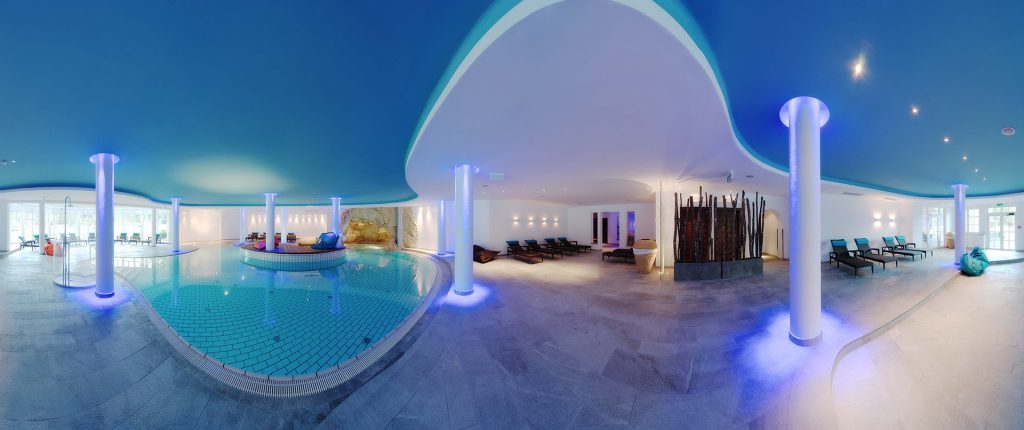 Active holidays or wellness? Business trip or a round of golf? And why "or"? At the Hotel Gut Brandlhof it is an "and"! Go for a flip on our pool after your seminar, relax in our saunas after a long day of skiing or hiking, or recharge your batteries on our golf course. At the Hotel Gut Brandlhof it is not either or, here you can do everything!
No matter if you would like to meet and celebrate with up to 700 guests, or go on a holiday with your partner, family or friends: The Hotel Gut Brandlhof is the perfect place. Discover our special holiday offers or send us your business enquiry. The team of the Hotel Gut Brandlhof is looking forward to creating unforgettable moments for you!
Almost unbelievable: Dates & Facts about the Hotel Gut Brandlhof
great
450 hectares grounds
200 rooms and suites
100 garage parking spots, 200 outdoor parking spots, incl. BMW and Tesla charging stations
ca. 130 team members with full-year-employment
3 staff houses with 80 apartment units
thrilling
3,500 m² conference area with 23 seminar rooms (40 m² to 800 m²)
brand-free autohaus with700 m²
Kärcher gantry car wash
6 event locations (rustic traditional, alpine chic and classily elegant)
Wilderer Alm cabin with authentic Austrian cabin fun
chilling
3.000 m² Vivid Spa & Beauty
350 m² fitness centre
Restaurant with 350 seats in separate parlous
sustainable
Biomass heating plant for self-sustaining warm water and heating
Drinking water supply by rimming 7 mountain springs (170,000 l container volume)
active
Soccer field with FIFA dimentions and training field
Adjoining driving centre by the Austrian Automobile, Motorcycle and Touring Club (ÖAMTC Fahrtechnik Zentrum) – 110,000 m² for driving technique courses, drift challenges and automotive events
18-hole championship golf course with driving range
Practicing area with putting, pitching and bunker play
Challenge Zone (various high and low wire elements) and Giant Swing
3D bowhunting parcours
2 indoor tennis courts, 1 squash court
2 skittle alleys
Outdoor tennis court and multi-court for various ball games
Own hunting and fish waters